Indian Chess News:
World Cup  –  Vidit advanced to the Quarter Final: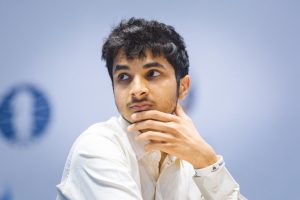 Vidit advanced to the Quarter Final with a smooth victory over the Azerbaijan GM Vasif Durarbayli. Vidit outprepared his opponent with the Black pieces in a Ruy Lopez Archangelsk opening and applied pressure right from the beginning. The relentless pressure created by Vidit provoked gradual mistakes from his opponent. Faced with an unsalvageable position and no time, his opponent resigned after 38 moves. Vidit will face the winner of the match between Russian GM Alexander Grichuk and Polish No:1, GM Jan-Krystzof Duda.
Report by GM N Srinath & Photo by Anastasiia Korolkova/FIDE
World Chess News:
Round 06 Game 01: One foot in the semi-finals for Carlsen
Shankland grinds down Karjakin in a technical ending
Wednesday, July 28th, 2021 – Eight players returned to the Galaxy Centre this afternoon for Game 1 (of 2) of the sixth round of the World Cup: the quarter-finals. The stakes are really high: there is a lot in play.
Not only the World Cup title and the fantastic 110.000 USD first prize: there are two spots for the 2022 Candidates tournament up for grabs, in addition to the direct qualification for the 2022 FIDE Grand Prix series.
GM Emil Sutovsky (FIDE Director General) pinpointed an interesting fact on Twitter (edited): "Nobody would have guessed these eight (players). Notably, none of the five players that took part in the Candidates 20/21 tournament (Nepo and Ding didn't play, Wang Hao quit afterwards). Well, that is a KO. And no, don't call it a lottery!".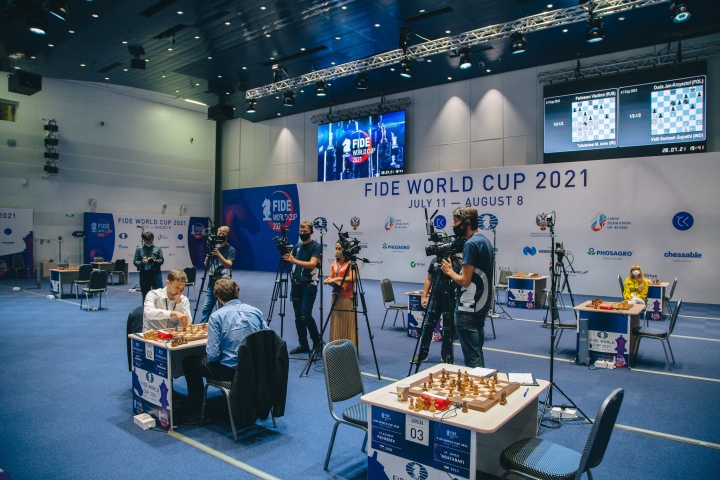 The women's section enjoyed a well-deserved rest day today – it will be the open group's turn on the 31st. Therefore, only four games were played, all of them very evenly matched.
Board one – on the main stage – featured the match between GM Etienne Bacrot (2678) representing France, against World Champion GM Magnus Carlsen (2847) from Norway. Excluding blitz and rapid games (in which Bacrot has defeated Carlsen twice), the World Champion had a 6-3 track record in his favour, with no wins for Bacrot, and this statistic didn't improve today.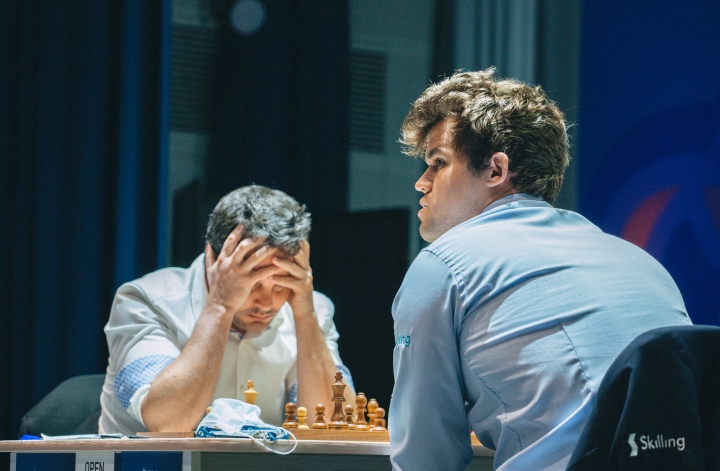 Carlsen played a very good game with Black, sacrificing a pawn for two bishops and the initiative in an anti-Marshall Ruy Lopez opening. Bacrot started to go astray with 24.f4?!, weakening his kingside, and a few moves later he blundered with 26.Qh3? (the move 26.f5 was better and the game goes on).
Carlsen followed up by sacrificing his queen for a rook and a bishop in addition to a very strong passed pawn, and soon notched up the win and made his claim to advance to semi-finals. After the game, he analysed the different variations with GM Almira Skripchenko in the official commentator's booth.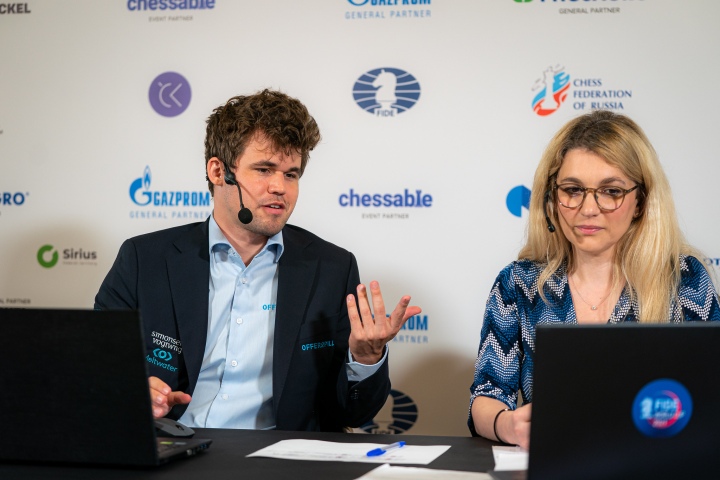 On board two, USA top player GM Sam Shankland (2709) took on former 2015 World Cup winner GM Sergey Karjakin (2757), in the first official game between the two.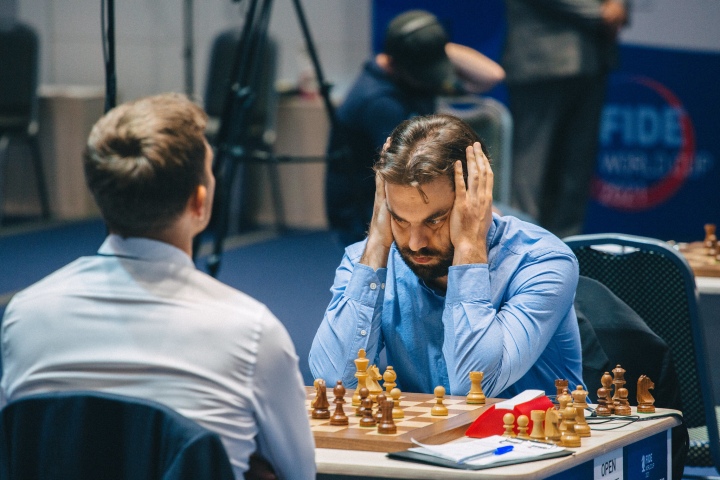 After an earlier exchange of the queens, the game seemed to be heading for a draw, but Shankland did have some light-square pressure and chances to pressure a double pawn.
Sam Shankland – Sergey Karjakin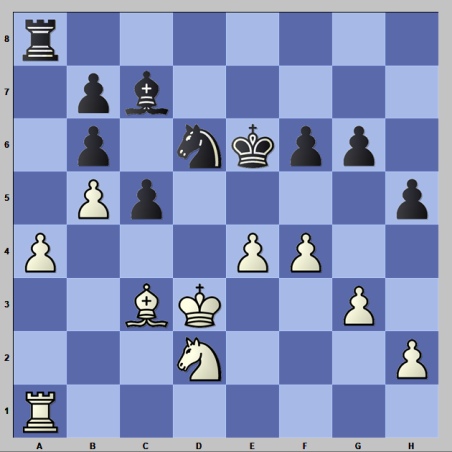 However, he needed a mistake and it finally came. Karjakin's 38…f5?, allowing 39.e5, creating a strong supported passed pawn, was a game-deciding move. With excellent endgame technique and top-notch pawn-ending theoretical knowledge, Shankland was able to grind his opponent down. The former 2015 World Cup winner will now have to win tomorrow on-demand to force the tiebreak.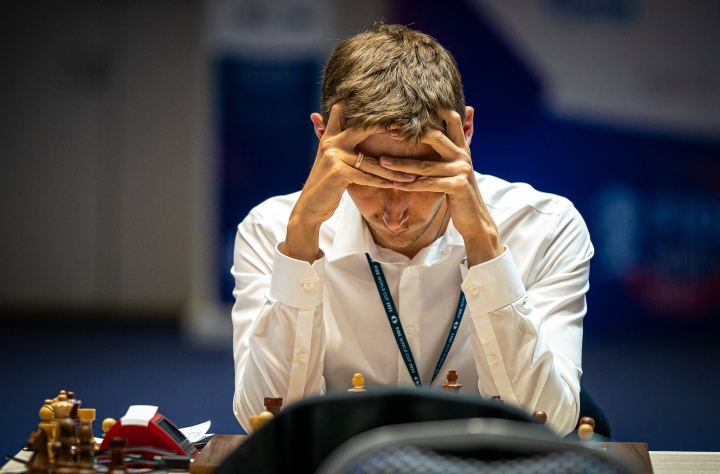 GM Vladimir Fedoseev (2696), playing for Russia, was relatively happy with a draw with Black on board three. Both players castled queenside in a Queen's Gambit – exchange variation -, but his opponent, GM M. Amin Tabatabaei (2613) from Iran, played for the attack on the queenside. Fedoseev sacrificed a pawn for some compensation, but Tabatabaei declined the offer and the Russian escaped unscathed.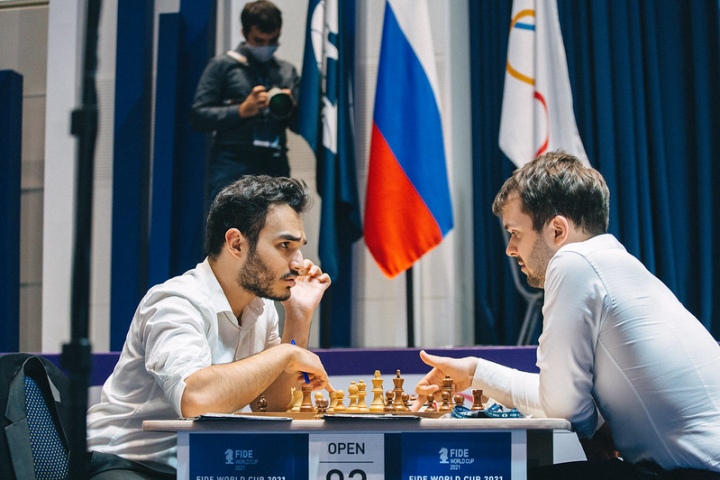 He gave us his thoughts in a brief post-game interview.
Last but not least, the match between GM Vidit, Santosh Gujrathi (2726) from India and GM Jan-Krzysztof Duda (2738) representing Poland, will have to be decided tomorrow. Vidit went for a solid Catalan opening which gave him a very slight edge, two bishops and some squares for the knights, but Duda defended perfectly and the game ended peacefully on move 28.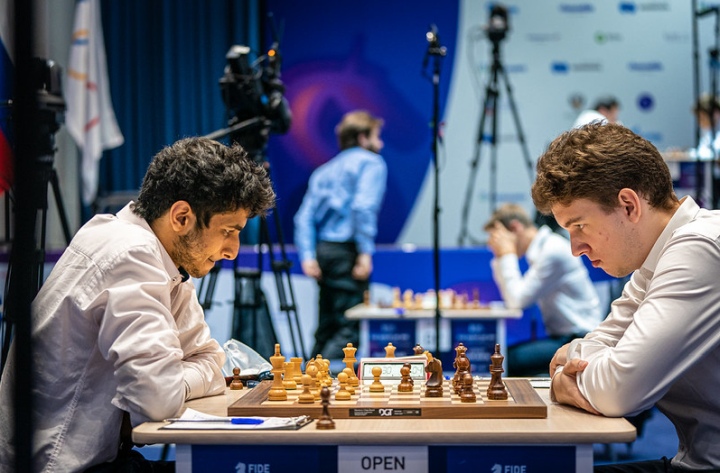 In the post-game interview, we questioned Vidit on his opening decision.
More information on the World Cup website: 
Pairings of the rounds, live games and PGN files can be found on the World Cup website alongside a great amount of other interesting information such as daily videos, a complete photo collection and other useful data.
Text: Michael Rahal, FIDE Press Officer press@fide.com
Photo: Eric Rosen and Anastasiia Korolkova
About the tournament:
Scheduled to take place from July 12th (Round 1) to August 6th (finals), the 2021 FIDE World Cup will gather together in Sochi (Russia) 309 of the world's best chess players, with 206 of them playing in the Open World Cup (and 103 participants in the first-ever Women's World Cup.
The top two finishers in the tournament, aside from World Champion Magnus Carlsen who is also participating, will qualify for the 2022 Candidates Tournament, in addition to winning the 110.000 USD first prize (80.000 USD for the runner-up).
Organisers: International Chess Federation (FIDE), Chess Federation of Russia, Russian Ministry of Sports, and Government of Krasnodar Krai.
5 Chess Blogs and Resources Every Beginner Should Follow:
They say practice and perseverance make a person perfect. True that is and if you are venturing out to develop a new skill, you need more than these two attributes to consistently get better at what you intend to do. Precisely, you need the right exposure, mentorship and information about your interest to stay updated about it, learn trivia, interesting things only people within the circle of your interest would know, tips and tricks and what not! This specifically holds true for a game like chess, which cannot be confined to a book.
With a game so massive and full of probabilities, you cannot simply share that you have mastered chess by playing a series of games or reading a guide. Tons of strategies can be brought into a game, hundreds of ways to open a game, endgames, finishers, mid-game strategies, sacrifices, bigger pictures, phew, how can one stay on the edge when it comes to chess?
As we said – exposure!
There are thousands of brilliant minds out there who are great at chess but are not grandmasters and they all immensely contribute to the chess community by posting blogs. There are also several other resources, where you can practice and further enhance your game skills. To help you out, we have compiled a list of 5 such amazing chess resources you should follow. Check them out.
1) ChessVibes
It's the world's biggest online community for chess and is one of the best resources for both beginners and pros alike. On this portal, you will find everything related to chess – from news and updates to helpful articles, tutorials, tips and tricks and even videos and live chess rankings. The best part is that there is a section where you will find a unique chess puzzle to solve every day. So the first thing you do is check out the blog and subscribe.
2) LiChess.org
If you are looking at dedicating some time for chess every single day, we recommend you visit LiChess.org. The website is probably the best avenue to hone your skills and get better at your games. With the website, you can start playing online chess games with opponents from across the globe, giving you the exposure you need. Besides, you can also learn chess through analyses, videos, openings, tactics, first steps and even play solo matches for progress. The user interface is simple and if you are serious about chess, this is your Disneyland.
3) Chessdailynews
You would be taken back in a good way if we told you that this website has around 50 posts on chess per week. Yes, per week! That is tons of content on chess and immense information to update your skills. From puzzles, match analyses, tournament schedules, tactics, and archives of games, the perspectives you gain on chess after browsing through this website is phenomenal. Go check it out!
4) FIDE
Acting as the governing body of chess globally, this portal brings you all the information you need to become a pro chess player. If you are serious on getting into tournaments and increasing your ratings, this has to be your homepage. Though you won't find content on skill development like strategies and tactics or interviews, you will definitely stay updated about the world of chess and keep informed of every happening. Best website to evolve as a player!
For a beginner, these are the five best tried and tested resources we found useful. The amount of information they bring to the table and the insights they give players are unparalleled. If you think we missed out on any such website, share them on your comments and spread the word!